KALENDA MAYA
Femina Ridens
uscita prevista 2022
NUOVO ALBUM (2022)
Femina Ridens torna con il terzo album Kalenda Maya in uscita nella prima parte 2022
Il nuovo album è liberamente ispirato alla musica profana medievale con canzoni trovadoriche, virelai, canti goliardici, ballate ,provenienti da manoscritti prodotti tra il X ed il XIV secolo.
Alcuni di questi brani presentano ancora residui pagani ma non si vuole riprodurre l'idea di un passato romantico. Come scriveva Gustav Mahler "la tradizione è la salvaguardia del fuoco, non l'adorazione della cenere". La chiave di questo excursus quindi non è filologica bensì visionaria.
Kalenda Maya prende forza da ritmiche marziali, armonie vorticose e chitarre indiavolate spalancando nuovi orizzonti psichedelici. Un'attenta combinazione di strumenti antichi e moderni amplifica l'energia grezza che ispirava la musica profana. Il dialogo con la natura e il soprannaturale che risuona nei testi di questi canti, offre al pubblico un ponte tra passato e futuro.

Il live di Femina Ridens presenta diverse formazioni possibili (dal solo voce e chitarra, al trio fino al full band) ed è composto in organico completo da:
Francesca Messina: voce, chitarra, saz baglama
Massimiliano Lo Sardo: synth, santoor, armonium, glockenspiel
Nicola Savelli: percussioni
Alice Chiari: violoncello
KALENDA MAYA
Expected release: 2022 Springtime
NEW ALBUM (2021)

Kalenda Maya is a collection of witty and touching songs taken from Medieval manuscripts written in Europe from the 10th to the 14th century.
Lyrics are in Italian vernacular, Galician-Portuguese, Langue d'Oc, Langue d'Oil and Latin as a result of a close study and deep research into the subject.
The project goes beyond paying tribute to European and Mediterranean roots, moreover is blending in harmony old and contemporary vibes through a fine reworking of melodies.
In some of the songs the troubadour tradition found a new light, by gracefully using both traditional and modern instruments. Other tracks have a pagan remnant distinguished by martial rhythms and swirling sounds that brilliantly open up to new psychedelic horizons.
Kalenda Maya has been recorded with the intention to capture the raw energy as the need of contact with Nature and supernatural forces that have strongly inspired Middle Age music.
This fresh approach to Medieval music creates live performances that seek to draw out different expressive possibilities suggested by the original material, truly creating a bridge between the past and the future.
As a live band Femina Ridens are composed by
Francesca Messina: vocal, guitar, saz baglama
Massimiliano Lo Sardo: synth, santoor, armonium, glockenspiel
Nicola Savelli: percussions
Alice Chiari: cello
Schiaffi (2015)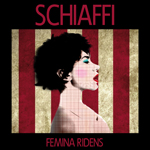 Schiaffi – Data di uscita: 20 marzo 2015
Prodotto da Francesca Messina
Edizioni A Buzz Supreme
Distribuzione fisica Audioglobe
Distribuzione digitale The Orchard/Digitalea
Registrato e mixato presso gli studi di Niccolò Gallio
Masterizzato presso gli studi Alpha Depth da Andrea Suriani
Tutti i brani scritti e composti da Francesca Messina (Edizioni A Buzz Supreme)
ad eccezione di "Masturbati" di Andrea Tich (Suono Edizioni Musicali-Pull Music Publishing)
Cover design Massimiliano Lo Sardo
Artwork Sara Messina (Click'n'Roll)
Line-up
Francesca Messina (voce, chitarre, synth)
Massimiliano Lo Sardo (synth, elettronica, basso, armonium)
Tracklist
1-Come te
2-Masturbati
3-Esisti solo tu
4-L'educazione sentimentale
5-La banalità
6-La sportiva
7-Rivendica l'erogeno
8-Cuore di coniglio
Femina Ridens (2013)

Femina Ridens – Data di uscita: 11 marzo 2013
Prodotto da Francesca Messina
Edizioni A Buzz Supreme
Distribuzione fisica Audioglobe
Distribuzione digitale The Orchard/Digitalea
Registrato e mixato presso gli studi di Niccolò Gallio
Masterizzato presso gli studi Alpha Depth da Andrea Suriani
Tutti i brani scritti e composti da Francesca Messina (Edizioni A Buzz Supreme)
ad eccezione di "Vorrei incontrarti" di Alan Sorrenti (Edizioni EMI)
Cover design Massimiliano Lo Sardo
Artwork Sara Messina
Line-up
Francesca Messina (voce, chitarra acustica, chitarra elettrica, timpano, rullante, synth, marranzano, kalimba, glockenspiel, agogò)
Massimiliano Lo Sardo (basso, synth)
Tracklist
1-Relazioni ansiose
2-Vorrei incontrarti
3-Appariscente
4-Tutto il mio silenzio
5-Ciò che non hai fatto
6-Barbablù
7-Esuberanza
8-Unici